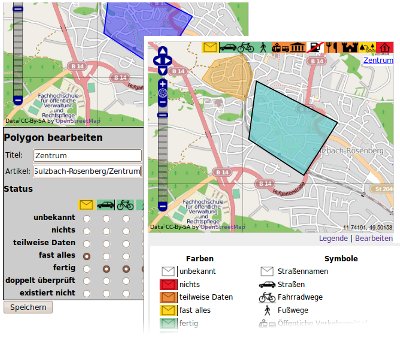 MappingStatus
MappingStatus ist eine MediaWiki-Erweiterung für Openstreetmap. Wenn sie installiert ist, kann man mit dem <mappingstatus>-Tag Karten von Openstreetmap auf Wikiseiten einbinden. Mit einer GUI können diese auch einfach editiert werden.
Um das Mappen besser zu organisieren, können die Benutzer auf der Karte Bereiche markieren und angeben, wie gut diese schon gemappt sind.
Download
Lizenz
This program is free software: you can redistribute it and/or modify it under the terms of the GNU General Public License as published by the Free Software Foundation, either version 3 of the License, or (at your option) any later version.
This program is distributed in the hope that it will be useful, but WITHOUT ANY WARRANTY; without even the implied warranty of MERCHANTABILITY or FITNESS FOR A PARTICULAR PURPOSE. See the GNU General Public License for more details.
Installation
mappingstatus.zip downloaden
entpacken
den 'mappingstatus'-Ordner in den 'extensions'-Ordner des Wikis hochladen
die Zeile require_once("extensions/mappingstatus/MappingStatus.php"); in LocalSettings.php einfügen
Siehe auch